Products
CHROME LEATHER BANDAGE / FRICTION LINERS FOR THE FRICTION SCREW PRESS
We manufacture Chrome Leather Friction bandages with carefully selected raw hides of a heavy animal and process them in our own tannery with special self-formulated tanning chemicals. The Tanned leather are tested for their required specific properties like sore hardness, tensile strength, heat resistance, Abrasive resistance and co-efficient of friction to steel / cast steel and only the test passed chrome leather is being used to make friction screw press belts/ Bandages. Our Chrome leather friction belts/Bandages can be used within the temperature range from -20 degrees Celsius up to +90 degrees Celsius.

We fabricate Chrome Leather Friction Liner/Bandages for Friction Screw Presses of capacity ranging from 20 MT to 4000 MT. Suitable to flywheels of Indigenous presses like Amic, Ameteep, Basant, Birson, Binny, Godrej, Hari, Kalsi, NKH, etc., and other country made Friction Screw Press namely Berrenberg, Beche, Bothe, Dellavia, Edelhoff, Enomoto, Eumuco, Ficep, FTB, Gamei, Greenbhat, Hasenclever, Hilu, ILR, Kierserling, Lasco, Lindemann, MNW, Osterwalder, Rovetta, Schuler, Siempelkamp, Stanko, Tayler & Chelan, Vaccari, Weingartan, Zarz, Zdas, etc.
The Chrome leather Friction bandages can be made to suit any flywheel of the Friction screw presses. At present we manufacture chrome leather friction bandages to suit flywheel diameters 350 to 4000mm, Height from 30mm to 320mm and width from 15mm to 55mm. We can manufacture chrome leather bandages to suit any flywheel dimensions upon agreement. The chrome leather bandage is fabricated and pre-tensioned so as to fit perfectly to the flywheel rim and not to slip off. The pre-tension dimension is derivated by us based on the flywheel dimensions and to our experience.
HOW TO RECEIVE AN ENQUIRY OR PLACE AN ORDER WITH US
The dimension of the flywheel determines the design of the leather friction belt. We request you to please provide the exact measurements of the flywheel which will ensure and help us in manufacturing perfectly dimensioned Friction Belts to suit your flywheel of the friction screw presses.
To receive our offer and to place an order with us we may be requiring certain dimensions and data's to design the suitable friction belts for the flywheel of your friction screw presses. Referring to the below drawing please provide us the dimensions in all your enquiries and orders.
FRICTION SCREW PRESS - FLYWHEEL DRAWING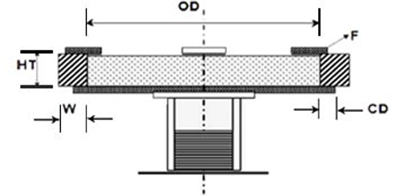 OD : OUTER DIAMETER OF THE FLYWHEEL
HT : HEIGHT OF THE BELT YOU REQUIRE.
W : WIDTH OF THE BELT YOU REQUIRE
CD : BOTTOM COLLAR/ FLANGE DEPTH.
F : FRCTION BELT CLAMPING RING – Weather Removable or Fixed.
SPECIAL FORMULATED CHROME LEATHER FRICTION BELT OIL
For extended life, to maintain the sore hardness, Friction and smooth operation of the chrome leather friction belt, we recommend and supply our specially formulated "30Kncf special friction belt oil" available in 5, 10, 20, 35 Ltrs., containers. (Instruction towards usage & application of the "30Kncf special friction belt oil" will be given separately along with the oil) Apart from the manufacturing of chrome leather friction belt we can design and manufacture special friction liner mounting jigs to suit flywheel where you can easily fix the belts on the flywheel and the down time of the press is very much reduced with safety fitment without damaging the belts while fitment. We can provide you the chrome leather friction belt assembling and operating manual on request.